Farmers can use the app in English, Hindi, Marathi, Tamil, Telugu, Kannada & Malayalam -- while getting instant photo recognition of weeds and diseases for key regional crops such as rice, cotton, maize, soybean and specialty crops like fruits and vegetables.
Mumbai, India – September 30, 2019 – xarvio™ Digital Farming Solutions by BASF today officially launched its Scouting smartphone app for farmers in India. Using instant photo recognition, an algorithm, and data sharing technology, the xarvio Scouting app enables growers and agronomists to identify weed and disease threats in their fields. In conjunction with the launch, BASF has entered a new partnership agreement with India's AgTech start-up, ULink AgriTech, to integrate its xarvio Scouting with their AgroStar platform. This integration will connect farmers to experts who recommend appropriate solutions and products.
"We know farmers in India are eager to adopt new methods that can help them improve crop quality and increase yields," said Dietrich Mertens, Global Commercialization xarvio Asia at BASF. "With the newly launched localized version of xarvio Scouting and our new collaboration with AgroStar, we are pleased to bring a new digital farming solution into the hands of millions of growers across India."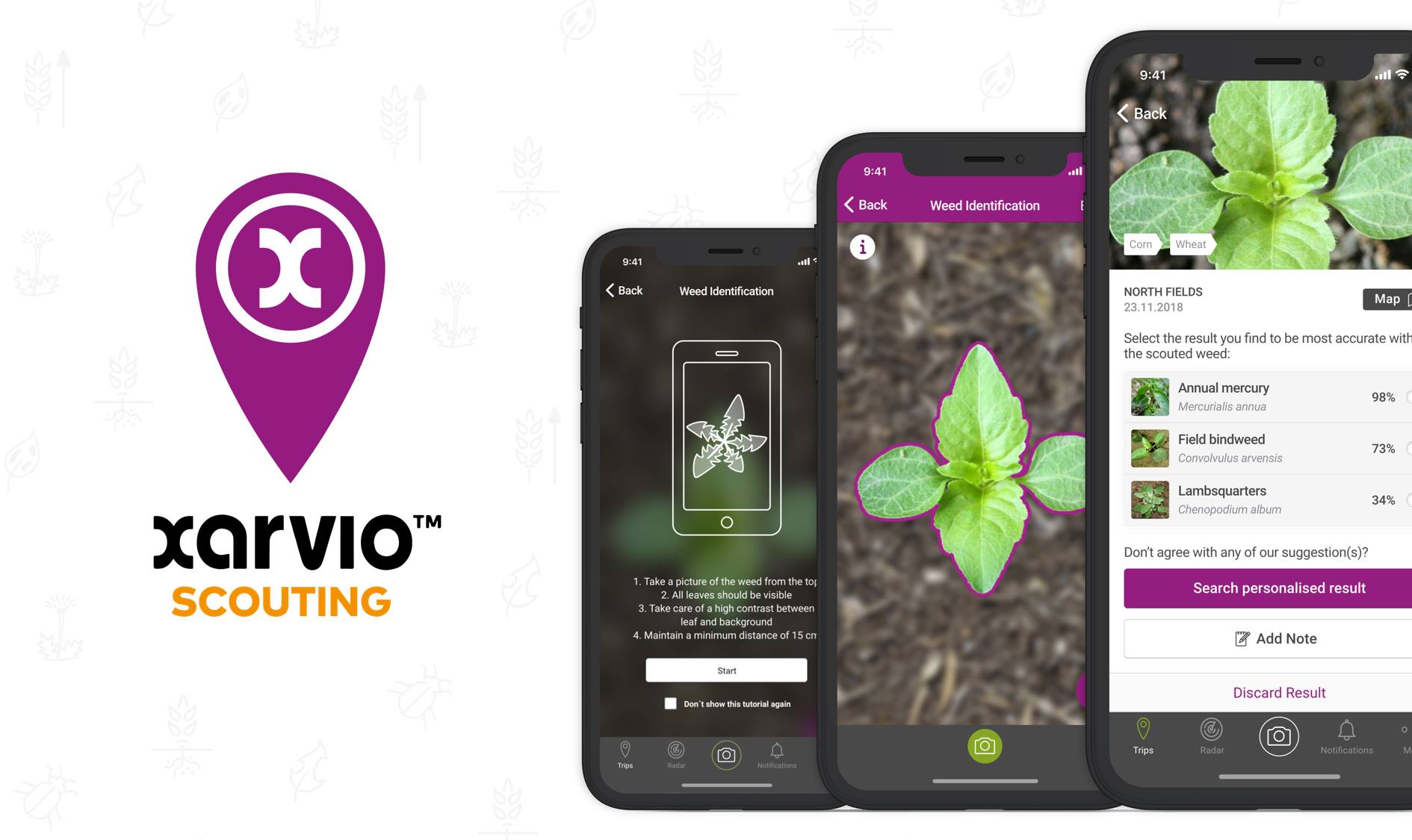 Crop scouting is time-consuming and requires detailed knowledge. The xarvio Scouting app supports farmers in India to efficiently identify weeds and disease threats in their fields and calculate leaf damage using just a photo taken with a smartphone. Furthermore, a community-based radar functionality shows farmers threats in the areas surrounding their fields. Armed with this  information, farmers can more accurately diagnose issues and select the appropriate treatments.
"As more and more farmers use xarvio Scouting and submit images of their crops, weeds and pests, the app's accuracy will continually improve and we can enhance the scope of identification," said Mertens.
The new partnership with AgroStar is envisioned to provide farmers with increased speed and convenience in linking problem identification with product recommendation. Once the two apps are connected, farmers using xarvio Scouting to identify in-field problems can decide to be automatically linked to potential solutions on the AgroStar platform. Farmers also have the option to discuss their crop situation with Agricultural Experts and learn more about the recommended solutions.
"We at AgroStar are very excited to partner with the xarvio Digital Farming Team. The integration of our mobile applications will enable farmers to get end-to-end, accurate and real-time solutions to pest and disease problems affecting their crops," said Shardul Sheth, Co-Founder and CEO at AgroStar.
Farmers who download and install the Scouting app on their smartphone will be able to use the digital product in English, Hindi, Marathi, Tamil, Telugu, Kannada and Malayalam. More language version will be available soon. Farmers will further benefit from the app's expanded selection of key regional crops, such as rice, cotton, maize, soybean and specialty crops. xarvio Scouting is part of a suite of digital products provided by xarvio Digital Farming Solutions, which is part of BASF's Agricultural Solutions division. The app is available for free download at the Google Play or Apple app store. Further information is available at ww.xarvio.com
Media Relations Contact for BASF Agricultural  Solutions (India):
Viral Makwana
Mob: 9619053505, viral.makwana@basf.com