With its unique mode of action, Zidua delivers superior management of resistant Phalaris in wheat, and offers fast and long-lasting control combined with excellent crop safety.
Karnal, India – October 10, 2019 – BASF today launched Zidua®, a new pre-emergent herbicide for wheat, which offers farmers a much-needed solution for controlling one of the most problematic weeds in their fields – Phalaris.
India is the second-largest wheat-producing country in the world. However, farmers in major wheat-growing areas have faced increased difficulty maintaining their yield levels due to outbreaks of Phalaris which has developed resistance to many conventional herbicides.  
Offering a new mode of action compared to currently available solutions on the market, Zidua® begins to protect fields immediately after application. It provides superior and long-lasting control of Phalaris coupled with excellent crop safety.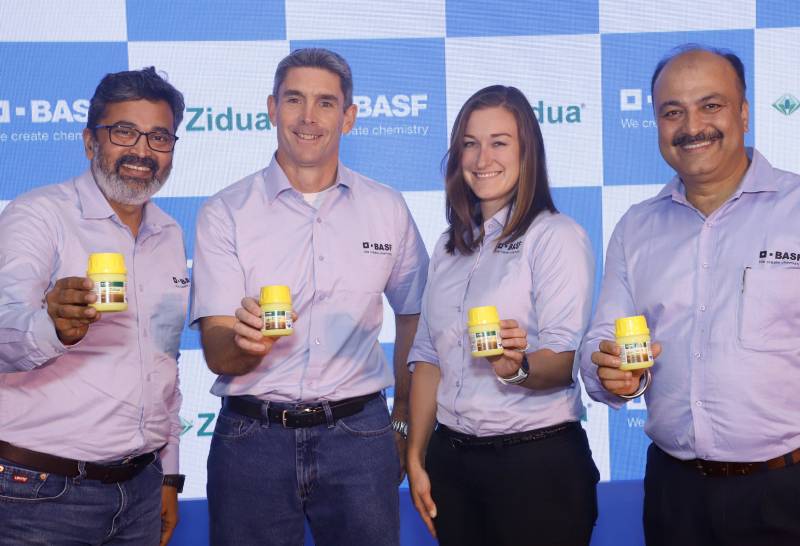 BASF team unveiling the 'Zidua' pre-emergent herbicide at the launch event in Karnal, Haryana
Zidua® further strengthens BASF's portfolio of innovative solutions for wheat growers in India, including products such as Opera®, which combines superior control of yellow rust with excellent plant health benefits.
"BASF is committed to helping Indian wheat growers maximize their potential. The growers deserve access to the most advanced solutions to help them achieve better yields. With this new launch, BASF once again demonstrates its commitment to supporting the growers to find innovative solutions to their problems," said Rajendra Velagala, Business Director, Agricultural Solutions South Asia.
Learn more about Zidua herbicide
Media Relations Contact for BASF Agricultural  Solutions (India):
Viral Makwana
Mob: 9619053505, viral.makwana@basf.com