BASF Solutions for Potato
BASF offers innovative and flexible solutions for Potato cultivation. Our products are already widely acknowledged and welcomed by Potato farmers around Asia and the globe. In addition to our crop protection solutions, BASF offers professional and technical support to Potato farmers to help them increase yields - which in turns increases their income and ensures the nation's food supply.
The occurrence of diseases like Early & Late Blight are the key factors preventing Potato growers in India from reaping higher yields. Our crop protection team aims to understand the needs of growers and bring revolutionary and innovative solutions to the market. 
India is the 3rd Largest Potato producer in the world. On Productivity front stands at lowest.
 
Learn how BASF can help in increasing the Potato productivity

 
 

Polyram
Polyram is broad spectrum contact fungicide from EBDC group for wide range of crops. It provides Broad spectrum disease protection with Zinc (14%) supplement, which helps in better crop health.
Polyram is an ideal tank mix and spray program partner due to its versatile Mode of Action i.e multisite action. Polyram has the very small particle size of WG formulation which:
Benefits
•    Protection: Broad spectrum disease control
•    Nutrition: Healthy Green Crop- Added Zn 14% 
•    WG Formulation: Easy dispersion in water & No stains
Dose-800-1000gms/acre, Available packs- 400gms & 800gms.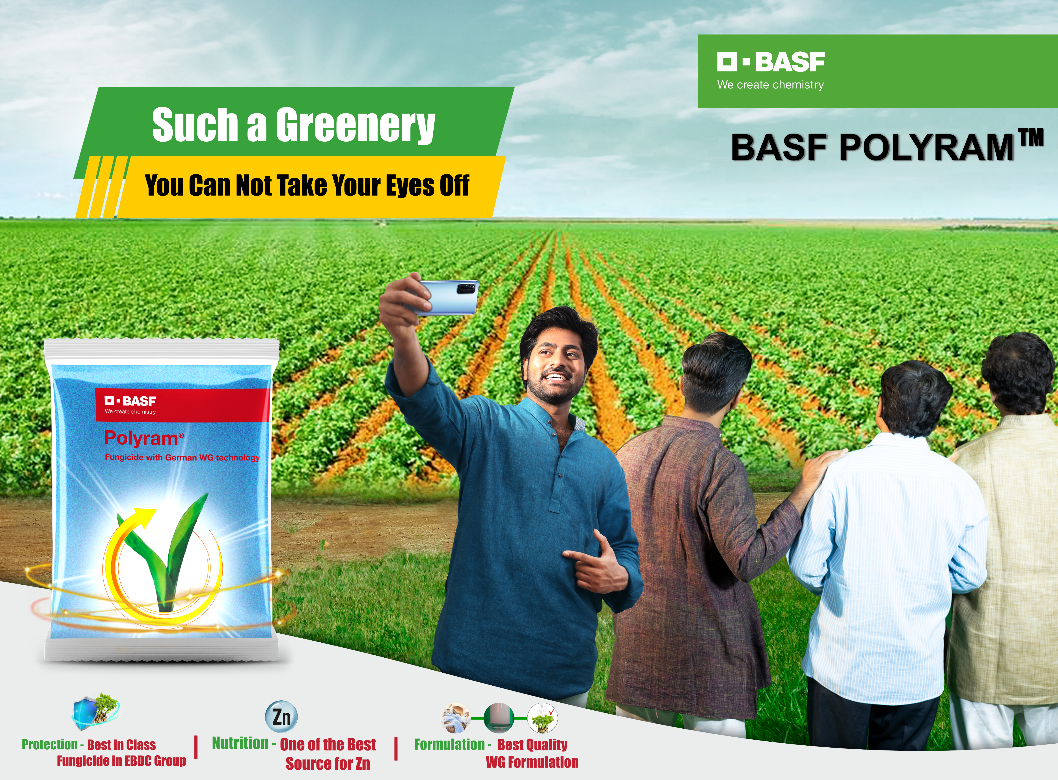 Cabrio Top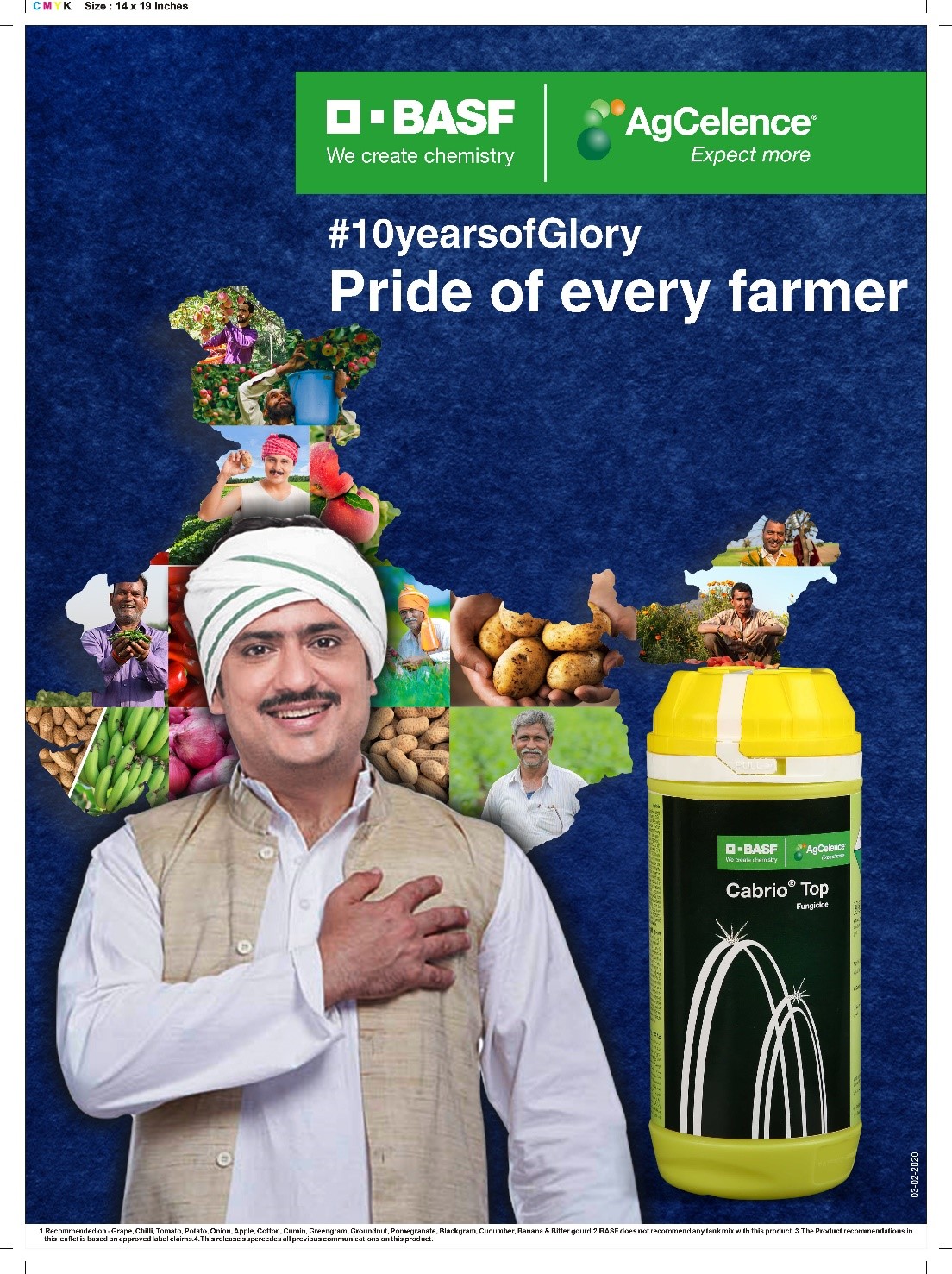 Cabrio® Top improves the quality and yield of Potato crop with its superior disease control. With its advanced plant health benefits, it gives longer duration protection with lesser sprays.
Broad spectrum and Long duration control. Enjoy its AgCelence® benefits: Improvement in quality & yield of your crop
Dose-600gms,Available packs- 300gms,600gms & 3kg pack
Zampro
For Late blight management many options are available. But are those enough to protect your crop with Quality benefits ??Are we missing an Essential piece. 
Presenting BASF Zampro an essential piece in your crop success.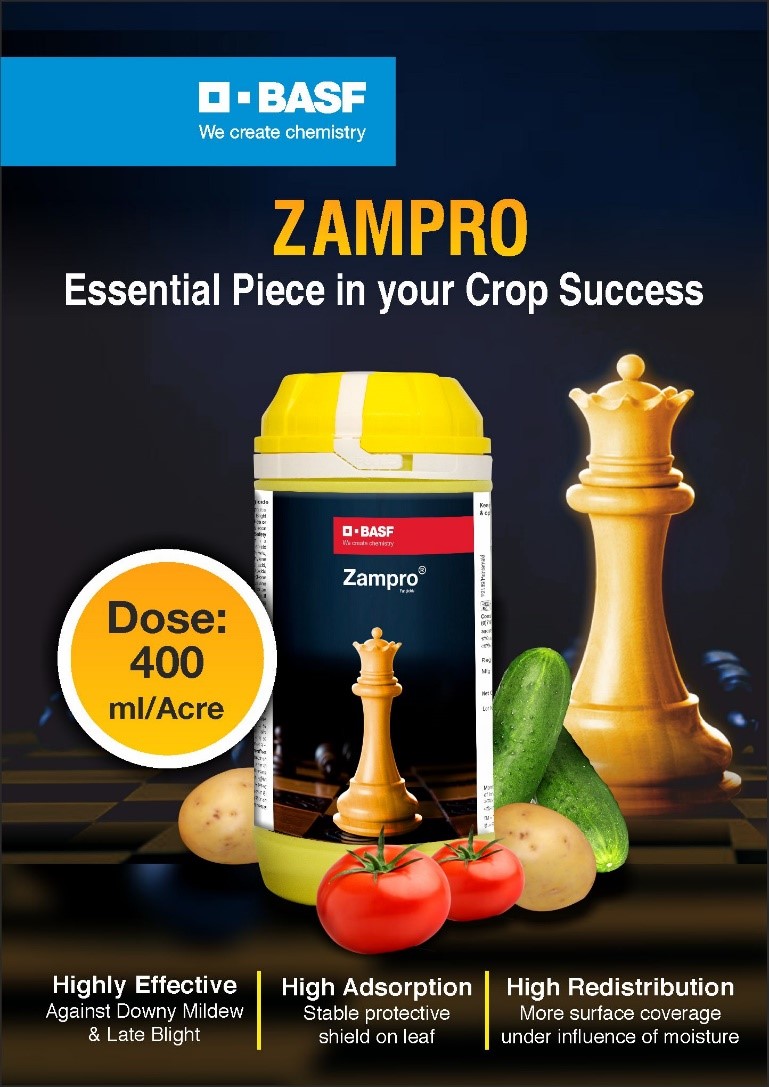 Most advanced fungicide to control the most critical diseases.
High Intrinsic efficacy, high adsorption and high Re distribution are the key UVPS of Zampro. Additional benefits are -User friendly formulation, Novel tool in Resistance Management, Rainfast ness of 2hr also being safe to humans & beneficial insects.
Dose-400ml per acre
Available packs- 400ml & 1lt
Acrobat Complete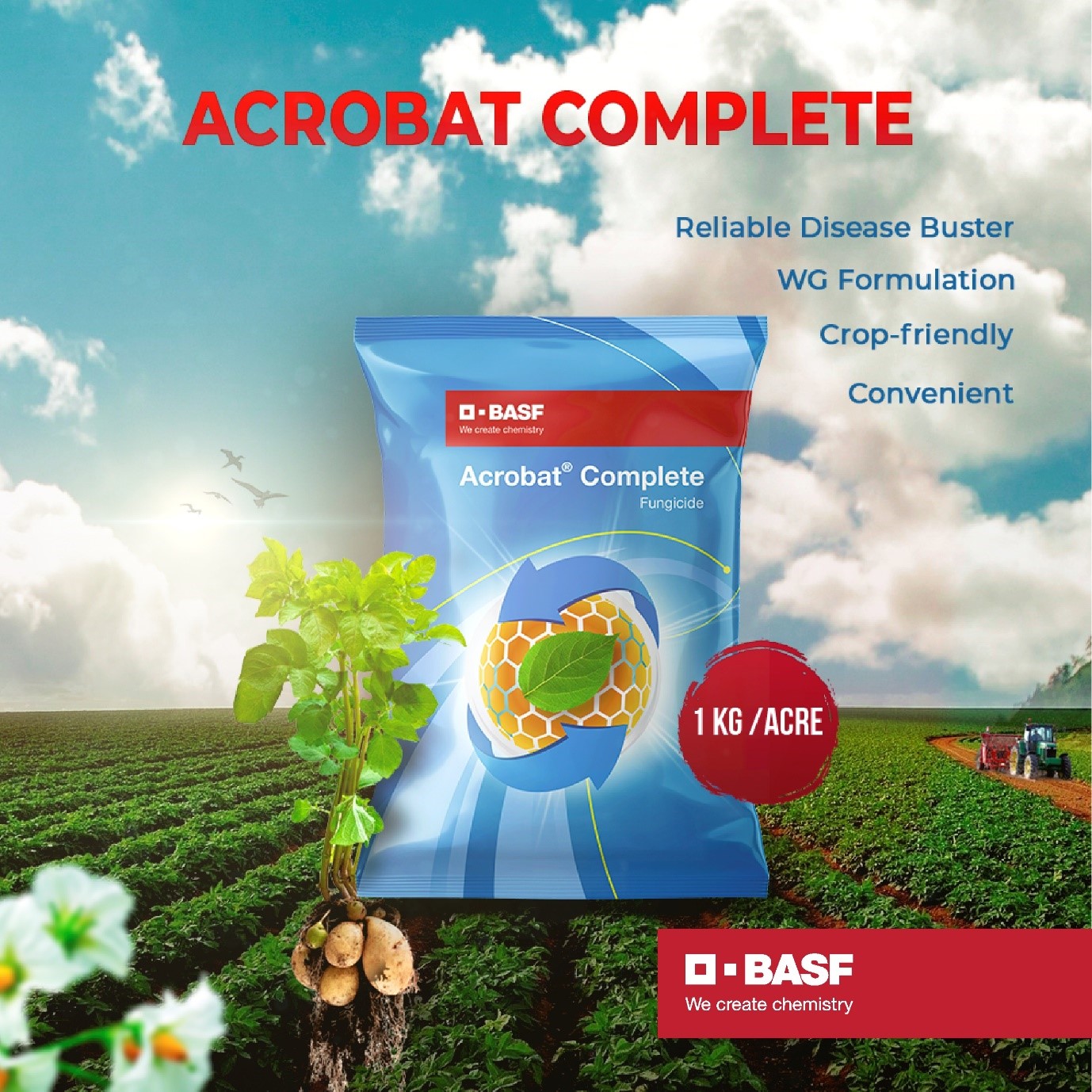 Get to know Acrobat® Complete, BASF's latest fungicide, which is a unique, balanced blend of two most trusted potential actives Dimethomorph and Metiram.

Acrobat® Complete brings together the years of grower's trust on BASF and a legendary brand in use along with the technology that brings ease of use while providing the best protection against Late blight right from the beginning of the season. Reliable solution for effective management of Late blight disease in Potato.

Dose-1kg/acre. Available pack sizes-500gms & 1kg.
Lihocin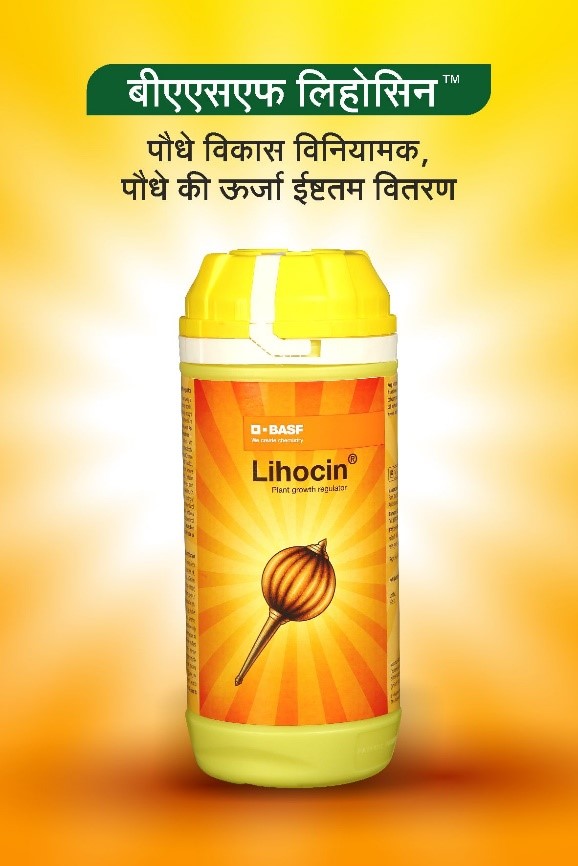 Lihocin is a Plant growth Regulator which channelizes the plant growth in  the desired direction at a particular period of time, leading to more yield & better quality produce. Increasing the yield and Improvement in quality of yield are the key UVPS of Lihocin.

Dose- 2ml/10litre of water
Available pack sizes- 100ml,250ml,500ml & 1lt.
Librel TMX2 & Librel Zn-
Highly soluble chelates for Plant Nutrition.Word Chelate (Kee'-late)-means bonding between a mineral and an organic molecule. In case of Librel this organic molecule is EDTA and DTPA
The organic molecule aids in the absorption of the mineral while it also protects the minerals from being prematurely broken down, making chelated minerals more stable. Librel chelates are well proven throughout world for more than 20 Years.
Available packs- 250gms & 1kg Pack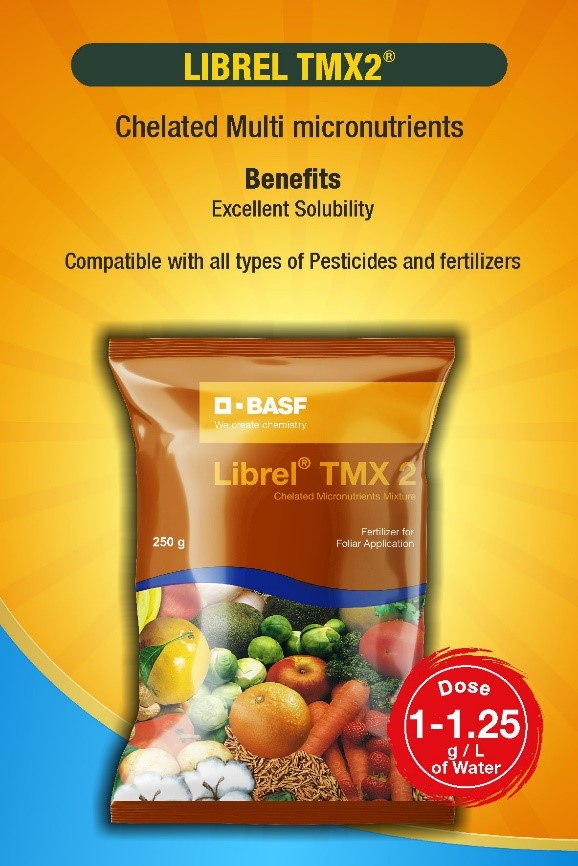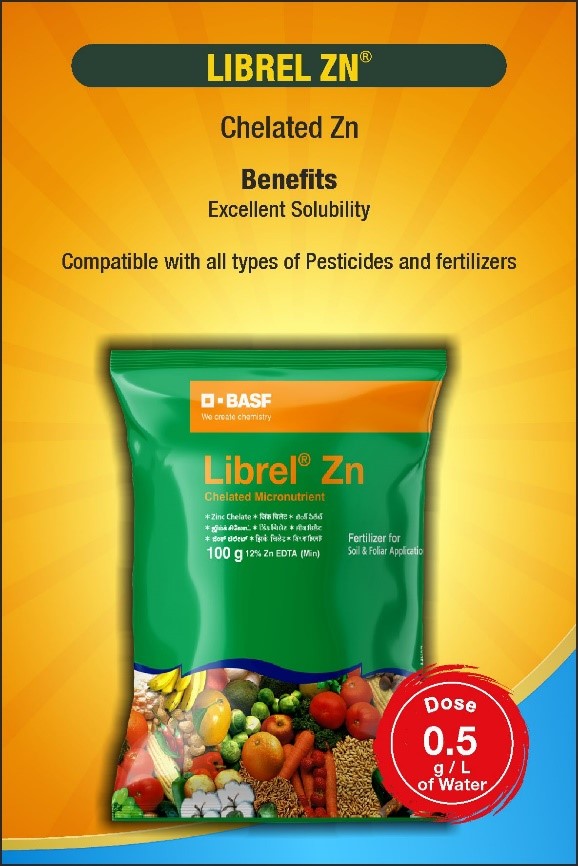 Librel Zn+ Librel Fe

Crop Stage
Dose/acre per lit of Water
Method of Application
Benefits
25-30 DAP
 500g + 200 g
 Mix with Fertilizer & broadcast

1. Uniform size of Tubers

2. More no. of Tubers.

 

Librel TMX-2

| | | | |
| --- | --- | --- | --- |
| Crop Stage | Dose/acre per lit of Water | Method of Application | Benefits |
| 45-50 DAP |  250 g |  Foliar Application | 1. Uniform size  & more no. of Tubers, hence increase in production & quality. |
BASF POTATO PORTFOLIO/CROP SOLUTIONS