Designed to reduce the risk of resistance development, Acrobat® Complete and Sercadis® Plus offer superior control of Downey Mildew, Powdery Mildew and a broad spectrum of other diseases. These new solutions further enhance BASF's strong portfolio for grape farmers.
Nasik, India – August 19, 2019 – Grape farmers in India will be able to protect their crops and boost productivity with the help of two innovative fungicides launched today by BASF – Acrobat® Complete and Sercadis® Plus. The new solutions provide grape growers with a more efficient spray program for better disease management.
India is among the top ten grape-producing countries in the world. However, the occurrence of diseases, such as Downy Mildew and Powdery Mildew, is one of the key challenges facing grape growers and preventing them from reaping better yields of high-quality fruit.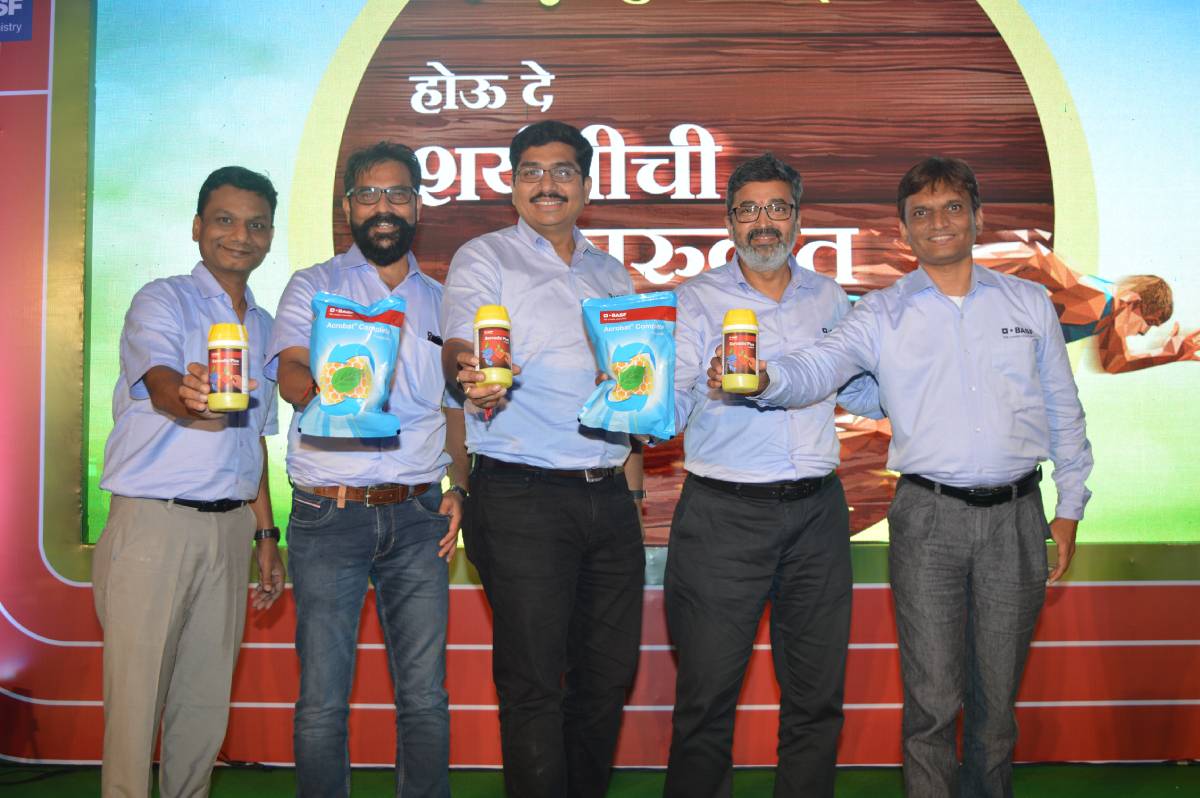 BASF team unveiling Acrobat Complete & Sercadis Plus fungicides for grape growers at the launch event in Nasik, Maharashtra
Acrobat Complete is a unique, balanced blend of two potential active ingredients, providing protection against Downey Mildew, at the beginning of the season. Sercadis Plus is a combination of BASF's Xemium® active ingredient and internationally acclaimed DMI (demethylase inhibitor), to manage Powdery Mildew and provide broad-spectrum control of other diseases. Both products are designed to reduce the risk of developing resistance to diseases in grapes, providing growers with highly reliable and effective protection for their harvest.
"Our products are widely acknowledged by grape farmers around India. The introduction of Acrobat Complete and Sercadis Plus will open a new era in grape disease prevention," said Rajendra Velagala, Business Director, Agricultural Solutions South Asia. "Grape farming is one of the most important fruit crops in terms of productive volumes in India. At BASF, we are dedicated to listening to and working with grape farmers to understand their needs."
In addition to its strong portfolio of fungicides, including Merivon®, Acrisio®, Cabrio® Top, Zampro®, Acrobat®, BASF offers professional and technical support to grape farmers to help them increase yields.
View all our solutions for grape farmers
Media Relations Contact for BASF Agricultural  Solutions (India):
Viral Makwana
Mob: 9619053505, viral.makwana@basf.com